City-wide street lighting upgrade
06/09/2018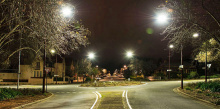 Work will begin in September to upgrade more than 2,800 street lights to energy efficient LED lights across the City of Norwood Payneham & St Peters.
The transition to LED lighting from the existing Mercury Vapour lights forms part of the Council's on-going commitment to progressing the City as environmentally sustainable.
Street lighting is the second largest source of greenhouse gas emissions from the Council, second only to domestic waste. The transition to LED lighting will lower the Council's greenhouse gas emission by approximately 520 tonnes a year (around 4%).
The LED upgrade will improve lighting levels in residential streets and footpaths. It will also result in net savings of approximately $150,000 per annum through reduced energy usage and lower maintenance costs.
The roll out will be managed by Enerven, a SA Power Networks subsidiary, and will take place in group stages across the Council area.
Older street lights removed will be recycled responsibly to prevent heavy metal (i.e. mercury) and other hazardous substances entering landfill.


More information
More information is available on the Enerven website including a Project Progress Report map.
For any immediate questions, please contact the Council's Customer Service Staff on 08 8366 4555 or email townhall@npsp.sa.gov.au