Zest for Life 2018 Program
20/09/2018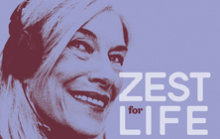 Celebrate your Zest for Life and join our exciting program of events which encourage positive and active ageing, and promote community well-being.
Our Zest for Life 2018 Program is presented as part of the COTA Zest Fest 2018 Festival for Modern Ageing.
Bookings for all events are essential and can be made online. Alternatively, bookings can be made at the Norwood Town Hall, Payneham and St Peters Libraries.
For more the full program of events and to book online, visit: Events & Festivals Calendar