Transforming Kent Town
08/11/2018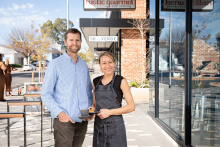 Kent Town is undergoing an urban transformation as the area evolves into a high-density, mixed-use neighbourhood.
The area was first identified as a development opportunity in 2010 by the State Government through its 30 Year Plan for Greater Adelaide, and subsequently re-zoned to enable new, high-density and mixed-use development.

Streetscape enhancements
To ensure that new developments help to create the desired pedestrian friendly streetscape, the Council partnered with the State Government to deliver two streetscape enhancement demonstration projects adjacent the recently completed East Park (1 King William Street) and La Verde (54-60 King William Street) apartments.
New streetscape enhancements:
footpath and laneway paving
street trees
garden beds
furniture such as bike racks, seating and bollards.
Developers of La Verde apartments, Morgan & Hansen builders further enriched the streetscape through the contribution of three sculptures, each designed and created by South Australian artist Gerry McMahon.
These demonstration projects, completed in July 2018, have set a new standard for the streetscape character and quality which the Council and the community will expect of future Kent Town developments.
Urban Design Framework and Public Realm Manual
To further support this new form of development, the Council is currently preparing an Urban Design Framework and Public Realm Manual which will be released for consultation on 14 November 2018 to guide integration of new developments with the streetscape, ultimately creating a people friendly neighbourhood.


View slideshow
Click on an image to view larger size and to start slideshow.
More information
For further information about the Urban Design Framework and Public Realm Manual, contact
the Council's Manager, Economic Development & Strategic Projects, Keke Michalos, on 08 8366 4509 or
email kmichalos@npsp.sa.gov.au