Smoke-free areas on The Parade
08/11/2018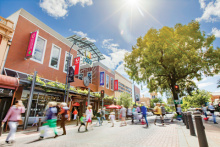 The City of Norwood Payneham & St Peters recognises the need to protect the health of the community and to increase the comfort and enjoyment of people using public spaces. This is supported through the introduction of smoke-free areas within the Council area.
From Saturday 1 December 2018 smoking will be restricted on The Parade (between the eastern side of Osmond Terrace and western side of Portrush Road).
Signage will be displayed on The Parade to show the area where smoking is prohibited.
For more information about The Parade smoke-free areas and other smoke-free areas in our City, visit: Smoke-free Areas