The Parade becomes smoke-free from December
22/11/2018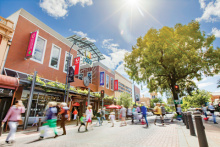 From 1 December 2018, a section of The Parade, Norwood, will become a designated smoke-free area.
The smoking restriction applies between the eastern side of Osmond Terrace and the western side of Portrush Road. It includes the road, footpaths, public spaces and pedestrian laneway adjacent to the Norwood Town Hall. It does not include the side streets that adjoin The Parade.
The smoking restrictions were approved by the Minister for Health and Substance Abuse earlier this year, following a thorough community consultation process in which 73% of respondents were in favour of The Parade being designated as smoke-free.
"It's clear to us that our community is largely in support of smoke-free open spaces and public facilities as awareness grows about the effects of second-hand tobacco smoke," said Mayor Robert Bria.
"The Parade is one of Adelaide's much loved places and a destination for locals and visitors who relish the main street's vibrant and dynamic café, restaurant and retail scenes, so it's imperative that the Council prioritises providing environments that promote well-being."
The decision was commended by Cancer Council SA Chief Executive, Lincoln Size, who said: "smoke-free laws denormalise smoking within our community, particularly for children, and protect the community from second-hand smoke exposure in high-traffic pedestrian areas".
Other smoke-free areas in the City include council-owned reserves and parks (including Norwood and Payneham Ovals), Payneham Memorial and Norwood Swimming Centre and at all events which are hosted or supported by the Council.
For more information about smoke-free areas in our City, visit: Smoke-free Areas