NPSP wins best practice work health & safety award
05/11/2018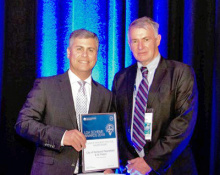 The City of Norwood Payneham & St Peters' efforts in the implementation of risk management programs and processes were last week recognised when the Council won the Local Government Association Workers Compensation Scheme (LGWCS) Work Health & Safety (WHS) Best Practice Major Award for a metropolitan council.
The Award acknowledged the Council's commitment to WHS through monthly Greater Safety Meetings, which ensure that WHS remains at the forefront of the Council's day-to-day operations.
"The Council is honoured to be recognised by the LGAWCS and our peers for our approach to best practice WHS which ensures that senior management exercise due diligence while providing a forum for ongoing WHS monitoring and decision making," said Mario Barone, Chief Executive Officer.
The Award was announced at the Local Government Association's 2018 AGM Dinner on Thursday 25 October.
The Local Government Association Workers Compensation Scheme has been recognising excellence in Local Government through the annual Schemes Awards since 1999.