Ninth Avenue upgrade now complete
19/11/2018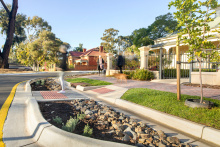 The transformation of Ninth Avenue has delivered an attractive, accessible and safe streetscape with a host of benefits for pedestrians, cyclists and motorists alike.
Recognised as a valued character street, and popular cycling and walking route, Ninth Avenue, St (Joslin and St Peters), was selected as the perfect pilot project to undertake a 'complete street' upgrade, meeting objectives of the Council's strategic plan, CityPlan 2030: Shaping Our Future.
A 'complete street' is one that is designed to enable safe access for all users, of all ages and abilities. This design approach considers the street as a whole rather than focusing on the renewal of individual assets such as footpaths, roads, kerbing and lighting.
The project has delivered:
one kilometre stretch of newly resurfaced road
new footpaths
new lighting
new landscaping including several new trees and rain gardens.
The rain gardens are designed to capture stormwater run-off, thereby reducing contaminants and improving water quality in the nearby Rover Torrens.
Intersections have been designed to encourage slower driving while parking edge lines and new shared lanes with sharrow markings contribute to overall improved road safety of Ninth Avenue.
Compliant with current Australian Disability Standards, kerb ramps and protuberances have improved pedestrian access and safety, while new LED street lighting will deliver energy savings for the Council and provide added benefits of general safety through a well-lit street.
Considered to be a successful outcome, the 'complete street' approach will be adopted for future streetscape enhancement projects throughout the City.


View image gallery
Click on an image to view larger size and to start slideshow.
More information
Contact the Manager, Economic Development & Strategic Projects, Keke Michalos, on 08 8366 4524 or email kmichalos@npsp.sa.gov.au