Introducing your new Council
20/11/2018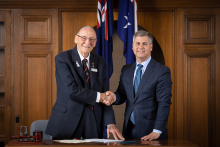 Following the 2018 Council Elections, Elected Members of the City of Norwood Payneham & St Peters Council were officially sworn in last night.
The Swearing In Ceremony welcomed a number of new Elected Members into office, as well as welcoming back those returning for another term.
St Peter's Ward welcomes new Elected Member Kester Moorhouse, who will serve the community alongside Evonne Moore. Fay Patterson joins Sue Whitington in representing West Norwood/Kent Town and John Callisto will work alongside Christel Mex in representing Kensington/East Norwood Ward.
Elected Members 2018-2022:
Mayor
Robert Bria
Kensington / East Norwood Ward
Christel Mex
John Callisto
Maylands/Trinity Ward
Connie Granozio
Mike Stock
Scott Sims
Payneham Ward
Kevin Duke
Carlo Dottore
St Peters Ward
Evonne Moore
Kester Moorhouse
Torrens Ward
Garry Knoblauch
John Minney
West Norwood / Kent Town Ward
Sue Whitington
Fay Patterson
Congratulations to the new Council on behalf of the City of Norwood Payneham & St Peters and thank you to all those who voted.