Festive Gallery on Osmond - vote for your favourite tree!
29/11/2018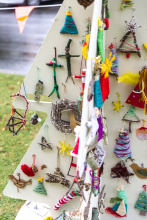 Osmond Terrace has again been transformed into an outdoor gallery of wooden Christmas Trees for the Festive Gallery on Osmond.
Children from 16 local schools have decorated 62 six-foot tall wooden Christmas trees. These will be displayed on the Osmond Terrace median strip from 20 November 2018 until 2 January 2019.

Participating schools
East Adelaide School
Felixstow Community School
Marden Senior College
Marryatville Primary School
Norwood Primary School
Prince Alfred College
St Ignatius Junior School
St Ignatius Early Learning Years
St Joseph's Memorial School Kensington
St Joseph's Memorial School Norwood
St Joseph's School Payneham
St Peters Child Care Centre & Preschool
Trinity Gardens School
Trinity Gardens Early Learning Centre
St Joseph's School Tranmere
Rose Park Primary School.
People's Choice Competition
The community is invited to visit and walk through the display on Osmond Terrace taking in the creative sights before nominating their favourite Christmas tree for the People's Choice Award competition!
Upon viewing the display simply follow The Parade Norwood on Facebook and 'Like' the photo of your favourite tree before 5.00pm Wednesday 2 January 2019.
The tree with the most likes by close of competition will win a $250 voucher to Dillons Norwood Bookshop for the school, plus $1000 to a charity of choice, kindly donated by the Norwood Parade Precinct Committee.
View image gallery