Festive Gallery on Osmond - vote for your favourite tree!
19/11/2019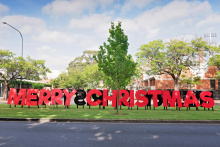 Osmond Terrace, Norwood has once again been transformed into an outdoor gallery of wooden Christmas trees for the Festive Gallery on Osmond.
Children from 10 local schools have decorated the 23 wooden Christmas trees which will be on display until 3 January 2020.


Vote to win
Visit The Parade, Norwood on Facebook and Like the photo of your favourite tree before 12pm, Monday 6 January 2020.
The Christmas tree with the most Likes will win a $250 voucher to Dillons Norwood Bookshop for the school, plus $1000 to a charity of choice, kindly donated by the Norwood Parade Precinct Committee.
Thank you to all of the wonderful schools, teachers, and especially students, who contributed to this amazing community Gallery.