2018 Sustainable Garden Awards winners
29/11/2018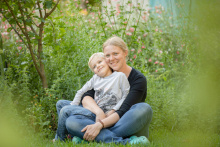 Last week the City of Norwood Payneham & St Peters announced the winners of the 2018 Sustainable Garden Awards in a celebration at Brick+ Mortar Creative
Two residential gardens - at St Morris and Payneham South - were recognised for making a positive contribution to the City's urban environment and well-being of the community through sustainable principles, design and innovation.
Nominations were assessed by a panel of expert judges against a range of criteria which included design, innovation and creativity, biodiversity and habitat, self-sufficiency and nature play. Judges were particularly impressed with the application of sustainable garden design principles; innovative ideas to promote water and moisture retention; and measures to attract native animals and insects.
The Awards marked the end of a two month celebration through September and October of the importance of gardening and landscaping in our urban environment.
A program of free sustainable gardening workshops and tours was hosted concurrently with the Awards program. Workshops quickly booked out and covered a range of topics such as organic pest control; wicking beds; soil health; the importance of bird, bats, bug and bees; fruit tree care; organic vegetable gardening; and an introduction to permaculture. Tours of St Peters Billabong, Chris Bryant and John Boland's award winning garden in Felixstow, the Linde Community Garden and Sophie Thomson's garden in the Adelaide Hills, also proved popular and by all accounts, were very well received.
To view the winning entries, visit: 2018 Sustainable Garden Awards Winners