Cool off at Council facilities
14/01/2019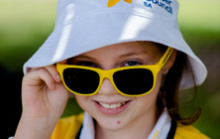 Escape the summer heat and visit one of our three Libraries where you can relax and take it easy.
If you are shopping on The Parade, Norwood, drop into the Norwood Town Hall where you'll find cool drinking water at the front counter.
If you're a water lover, cool off at the Norwood and Payneham Memorial Swimming Centres – the pools are maintained at 27 degrees and there is plenty of shade.
For more tips on how to stay safe during the summer, visit: Heatwave Information