Norwood Parade Precinct Committee - nominations open
07/01/2019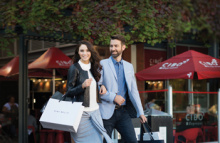 In aligning with the new Council, the City of Norwood Payneham & St Peters invites business and property owners located in The Parade Precinct (refer to map below), to submit an expression of interest for one of eight membership positions on the Norwood Parade Precinct Committee (NPPC).
The Council is seeking dynamic, progressive and passionate business or property owners who will represent the voice of The Parade business community and who are able to provide strategic direction on key issues such as the ongoing marketing and promotion of The Parade.
Who can nominate
To be eligible, you must be either a property owner/occupier or a trader/business owner who currently trades or owns a property within the Precinct boundary.
How to nominate
If you are interested in becoming a member of Norwood Parade Precinct Committee, please complete the Nomination Form by clicking on the button below.
Nominations must be received by no later than 5pm on Friday 18 January 2019.
NPPC meeting dates
The Norwood Parade Precinct Committee will meet at the Norwood Town Hall at 6.15pm on the following dates:
Tuesday 26 February 2019
Tuesday 28 May 2019
Tuesday 27 August 2019
Tuesday 26 November 2019
Membership on the Committee will expire on 31 October 2020.
More information
For further information please contact Jennifer Attick on 08 8366 4512.
Related content