Local Australia Day Awards
04/02/2019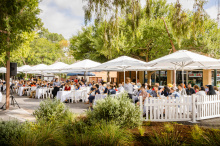 Congratulations to the winners of the 2019 local Australia Day Awards for the City of Norwood Payneham & St Peters.
The Award recipients were announced at a special Australia Day celebration held at St Peters Civic Plaza, St Peters on 26 January 2019.
2019 Australia Day Award winners
Citizen of the Year Award: Colin Abel
Since settling in South Australia, Colin has been heavily involved with many local clubs and organisations, including the St Morris RSL, Kensington Park RSL, SA Scouting and the Caledonian Band Society.
A trained army caterer, Colin has volunteered to give his time, as well as his planning, cooking and catering skills, to serve his community since he retired.
Colin's achievements as a volunteer include planning and leading a team to feed lunch to over 200 of the Royal South Australia Regiment at the Edinburgh RAAF base; organising the annual Legacy appeal, including the ongoing welfare of veterans partners and children; And he was also in charge of catering for the 2019 Scout jamboree, which supported eight thousand children.
Colin is described as a man with "high morals and a willingness to serve his country and community" who "can lift the spirits of human beings during trying times".
Young Citizen of the Year Award – Ryan Sumner-Knowles
Ryan's journey is one we are proud to acknowledge. With the support of Second Chances SA, a non-profit volunteer organisation committed to restoring hope to children, families and communities in difficult circumstances, Ryan has been faced with challenges, but he has also been given opportunities that he has taken and in which he has flourished. After attending the Second Chances SA camps from a young age Ryan showed great leadership skills and at the age of 15, was asked by the camp provider to become a mentor leader to a group of children and teenagers.
He is now a volunteer camp leader showing what has been described as an 'uncanny ability to encourage teens' to participate in the camp activities.
He has continued to assist children who struggle with school and help them to grow in confidence.
Ryan has completed his certificate in Community Services to develop his career path, focusing on helping disadvantaged and troubled young people.
Community Event of the Year: Cultures of Kensington
In 2017, the Kensington Residents Association celebrated its 40th anniversary by hosting a long-lunch festival called 'Cultures of Kensington', an opportunity for residents and newcomers to the area, to meet their neighbours.
Kensington is a wonderfully cultural diverse area, and the event was organised in recognition of this. 'Cultures of Kensington' was a chance for new migrants and residents from a number of different cultural backgrounds, to meet new people and make new friends, as well as share their culture and traditions with others.
All Kensington residents were invited and encouraged to attend wearing their traditional dress if they wished, as well as to bring a plate of food from the traditions of their cultural background, and pinpoint their family origins on a communal map. There were plenty of talking points for everybody! Around 200 people from more than 20 different cultural backgrounds attended the event, made new friends and tried delicious cuisines from around the world.
The event was planned in collaboration with Hopes Café, an initiative that helps new migrants and refugees to settle into Australian life, and was the perfect way to connect new migrants in Kensington to the support offered by the initiative.

A number of people that attended the event have become actively involved in the residents association. It's clear that the benefits of the 'Cultures of Kensington' event stretched beyond the long-lunch. This event has broken down barriers, helped residents to understand and appreciate the cultures of their neighbours, empowered residents to become actively involved in their community and consequently, reduced loneliness and isolation.
View image gallery
Australia Day 2019 celebrations