Educational Establishments Review DPA
03/04/2019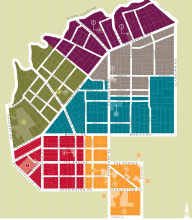 The Council's Educational Establishments Review Development Plan Amendment (DPA) was approved by the Minister for Planning on 21 March 2019.
The Council would like to thank the community and agency stakeholders who have been involved in the DPA process.
The DPA involved sixteen educational establishments within the Council (and some associated properties) being rezoned to the Community Zone – Education Policy Area. In addition, some non-school related sites were also rezoned.
The purpose of the rezoning was to provide a consistent set of planning policies for the assessment of school related development applications. These policies have been included in the Council's Development Plan and can now be used to assess development applications.
To view the consolidated Development Plan, download: Norwood Payneham and St Peters (City) Development Plan
Further reading
Public consultation on the DPA was held from 4 December 2017 to 9 February 2018. 17 public and agency submissions were received during the consultation period and seven verbal presentations were made at a public meeting on 13 March 2018.
Due to the submissions received, some amendments were made to the draft DPA, including new policies to address concerns relating to the potential impacts of school related development on adjacent residential properties.
In April 2018, the Council's Strategic Planning and Development Policy Committee endorsed the DPA, with the recommended amendments, for forwarding to the Minister for Planning for approval.
In the process of seeking Ministerial approval, some further minor and administrative amendments were made to the DPA. To view the post-consultation amendments, download: Council Assessment Committee Minutes: 19 March 2018