Become a mobile library service volunteer
03/04/2019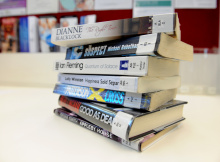 Become a Mobile Library volunteer and share your love of reading!
The City of Norwood Payneham & St Peters is seeking a volunteer to deliver library items to residents who are unable to visit the library due to age, frailty, disability or ill health.
The service runs once a month from the Payneham Library.
You will need your own vehicle and a current drivers licence. Travel reimbursements apply.
For more information about this program, please feel free to contact the Life Long Learning Team Leader, Wendy Steele on 08 8336 0335 or wsteele@npsp.sa.gov.au
Related content: