Fallen heroes of St Peters commemorated
24/04/2019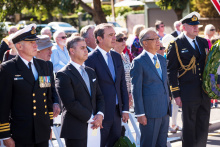 145 servicemen from St Peters and the surrounding suburbs who served and died in World War One were honoured at an ANZAC Day Eve ceremony when their names were added to the St Peters Heroes Memorial on St Peters Street.
The memorial is one of the few which does not show the names of those who died. Previously, the named photographs of over 600 servicemen and women who had volunteered for overseas service during the war had been inscribed on a Roll of Honour board, produced by the former St Peters Council in 1915 and displayed in the St Peters Town Hall until it was renovated in the mid-1960s. However, the board was lost over time.
The project, initiated by St Peters residents David Cree and Paul Ensor with the support of the City of Norwood Payneham & St Peters and the State Government, has now seen new bronze name plaques added to the Italian marble sculpture, which was erected in 1922 and funded by public donations.
Mayor of the City of Norwood Payneham & St Peters, Robert Bria, said: "The Council is grateful for the dedication and commitment shown by David (Cree) and Paul (Ensor) to firstly, initiate this project, and secondly, to see it come to fruition.
"Although more than a century has passed since the end of World War One, it is important that we continue to recognise the men from the local area who made the ultimate sacrifice for their country.
"It is important that their names and brave deeds are remembered by not only us, but generations to come."
The name plaques were unveiled by the Governor and were supported by a grant from the Minister for Veterans' Affairs.
View image gallery

Speeches from the ceremony
To read Mayor Robert Bria's speech, visit: Mayor's Speeches
To read David Cree's speech, download: David Cree's Speech