2019 Community Survey commences Friday 10 May
01/05/2019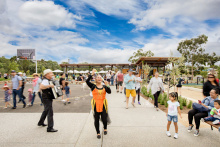 The City of Norwood Payneham & St Peters will be conducting its biennial Community Survey from Friday 10 May 2019.
The survey will be undertaken over the next few weeks to be completed by 21 June. It asks residents and businesses about their level of satisfaction with the Council and helps us to measure our progress towards CityPlan2030: Shaping Our Future, which is the Council's long-term strategic plan for the City.
It will take approximately 15 minutes to complete and participants will be selected at random. The survey will be conducted with residents at key locations or through door knocking. Businesses will be contacted by telephone.
The survey will be conducted by Square Holes on behalf of the Council.
For more information, contact Rosanna Francesca on 08 8366 4524 or email rfrancesca@npsp.sa.gov.au