New zoning rules across South Australia
14/05/2019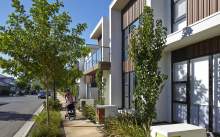 New planning rules are currently being drafted by the state government and will be released (for metropolitan areas) in September 2019 for community consultation.
The Council's current Development Plan needs to be revoked by July 2020 at which time current zoning will be replaced with a single state-wide planning and design code.
For more information about the state government's planning reforms, visit: SA Planning Portal - Planning Reforms
In early May 2019, the State Planning Commission released its proposals for neighbourhood change and its proposed approach for transitioning heritage and character policy from current development plans into the Planning and Design Code.
For more information about the Commission's policy position, visit: SA Planning Portal - Policy Position on Heritage & Character

Information will soon be released on the following topics:
residential development / infill improvements
water sensitive urban design / green infrastructure.