Stepney Maylands Evandale LATM Study
28/05/2019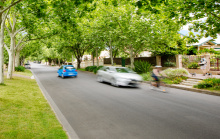 The Council has endorsed a proposal to reduce the speed limit between Portrush Road, Payneham Road and Magill Road (not inclusive of arterial roads).
The proposal was endorsed by Council at its meeting held on Monday 1 April 2019, and comes following an in-depth traffic management study to identify the key issues on the area's roads.
The Council will spend $133,000 on implementing the recommendations of the study which will include new signage and line marking etc, and will also work with the Department of Planning, Transport and Infrastructure to address the capacity of the arterial road network in the study area.
The Council will now lodge an application with the Minister for Transport, Infrastructure and Local Government for the introduction of the 40kph speed limit.
For more information and to read the final Report completed by Tonkin Consulting, visit: LATM Study