Join the plastic free July challenge
12/06/2019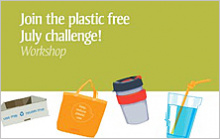 Did you know that almost every piece of plastic ever made is still around? Make a difference this July by going plastic free!
Plastic free July workshop
Join us for a cuppa at our plastic free July workshop to find out how you can make small changes to your plastic use and make a big difference to the environment!
Can't make the workshop?
If you can't make it, there are five ways that you can go plastic free for July and beyond:
Avoid: plastics such as plastic bags, polystyrene foam (which can't be recycled through the kerbside collection), and pre-packaged items including fruits, vegetables, fish and meat.
Reduce: the amount of things you buy, especially plastic items. This will not only help the environment, it could also save you money!
Re-use: choose a reusable, non-disposable coffee cup and refillable water bottle. Why not join in the Council's Daily Grind initiative, and take your own re-usable coffee cup when grabbing a coffee at participating coffee shops along The Parade?
Recycle: your rigid plastic containers and packaging. Most hard plastics can be recycled in your yellow-lidded recycling bin (with the exception of polystyrene foam). To check out which bin to put your waste in, visit: bin collection
Compost: compostable items are made from plant based materials and offer a great alternative to plastic. Look for the symbol below to know that an item is compostable.
To find out more, visit: Plastic Free July
Compostable items symbol
Look for the symbol below to know that an item is compostable.