NPSP Annual Report gets gold
24/06/2019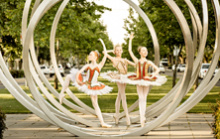 The City of Norwood Payneham & St Peters' has been awarded gold for its 2017 – 2018 Annual Report in the prestigious 2019 Australasian Reporting Awards (ARA).
The awards provide all organisations that produce an annual report an opportunity to benchmark their reports against the ARA criteria, which are based on world best practice.
After being awarded bronze in 2016 – 2017 and then silver last year, NPSP's Annual Report is now amongst the best in the world.
The awards are administered by the Australasian Reporting Awards Limited, an independent not-for-profit organisation run by volunteer professionals from business, government and not-for-profit sectors.
The gold award was presented at the ARA Awards presentation dinner in Melbourne on Wednesday 19 June
The Annual Report is a key document in the governance and strategic direction of the Council. It gives an overview of the Council's goals, achievements and challenges and helps residents, businesses and organisations stay informed on the Council's performance. It also shows progress against the objectives set out in CityPlan 2030: Shaping Our Future, which is the Council's strategic management plan.
Download: 2017 – 2018 Annual Report