Raising the Bar in NPSP
09/07/2019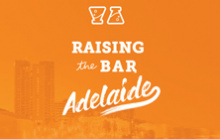 20 TALKS. 10 BARS. 1 NIGHT.
Raising the Bar is returning to our City on Tuesday 13 August.
Ten venues across the City will be transformed into spaces for learning and discussion.
There will be 20 insightful talks led by experts from South Australian universities on a range of fascinating topics, from creativity to psychology.
Free event. Bookings essential.
Tickets sell out quickly, so make sure you book as soon as possible.
For full program details and to book free tickets, visit: Raising the Bar Adelaide
View 2018 image gallery