Felixstow Reserve nominated for AILA award
02/07/2019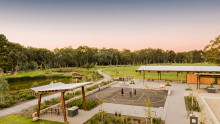 The newly redeveloped Felixstow Reserve has been selected for The Adelaide Review – AILA SA People's Choice Award in the Parks and Open Space Category.
Felixstow Reserve is one of the most significant pieces of open space in Adelaide's eastern region and is the result of collaboration and partnership between Local, State and Federal Governments and the Kaurna people.
To vote for Felixstow Reserve, visit: AILA Awards
About Felixstow Reserve
Felixstow Reserve was officially re-opened on 10 February following a $3.8 million transformation, creating a cutting edge and multipurpose open space.
Featuring recreational facilities, sports and fitness equipment, Felixstow Reserve is ideal for family and friends to get together, with BBQ facilities, toilets and shady areas creating ideal locations for picnics.
Felixstow Reserve also incorporates an innovative dual-purpose wetland which functions as a stormwater harvesting system, efficiently collecting, treating and storing stormwater to be used for irrigation purposes across the eastern region of Adelaide. Importantly, the wetlands also provide habitat for a variety of wildlife.
Felixstow Reserve is located in an area of high cultural and spiritual significance for the Kaurna people of the Adelaide Plains and the Council collaborated closely with the Kaurna people during the redevelopment.
The Felixstow Reserve Redevelopment Project is a prime example of collaboration between the Kaurna people and Local, State and Federal Government.
The project was funded by the Council, South Australian Government and Australian Federal Government.
View image gallery
Felixstow Reserve opening, 10 February 2019.