Free council information app
17/07/2019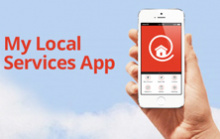 My Local Services is a free app and a quick and convenient way to find out current information on your local area and Council.
The app can be used to discover local facilities such as parks, playgrounds and libraries through the 'near me' function.
Users can also view a list of local events along with their location on a map, to find out what's happening nearby. The app's 'waste' function provides users with all the information they need on the kerbside collection. This includes collection dates for the red, yellow and green bins, and the option to receive notifications to know which bin to leave out the night before a kerbside collection.
The app can also be used to report a missed bin to East Waste, which delivers the kerbside collection service on behalf of the Council. The app's 'report it' function can be used to report an issue to the Council. This allows users to send a photo, description and location of the issue to the Council's customer service team, who will ensure it is dealt with as soon as possible.
Download the free My Local Services app to your smartphone from the Apple App Store or Google Play