10 dog off-leash areas
07/08/2019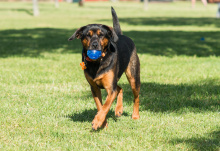 Your dog must be kept on a leash in all public places, but, did you know there are 10 beautiful reserves in the City of Norwood Payneham & St Peters where you can let your dog run off-leash?
To make sure everyone can enjoy these reserves, you need to make sure your dog is under your effective control whilst they are off their leash. This means:
your dog must respond to your voice commands
you must be able to see your dog at all times
you must clean up after your dog.
Check out our list of off-leash areas, and the times that dogs can go off-leash: visit: Dog Off-leash Areas
To register your dog by Saturday 31 August, please visit: Dogs and Cats Online
Related content: