NPSP dog and cat owners survey
12/08/2019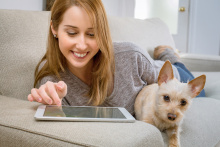 If you own a dog or cat, we'd like you to help us out by filling in a survey.
The Council's 2019-2024 Dog & Cat Management Plan guides how the Council manages dogs and cats in the City. One of the objectives of the plan is to educate the community about responsible pet ownership and the broad range of dog and cat ownership requirements. The survey will help us to understand how we're doing with this.
The survey will take approximately 5 minutes to complete. We appreciate your time.
If you can spare 5 minutes to complete the survey, please click the button below.