The Parade, Norwood to trial plastic free pilot
26/08/2019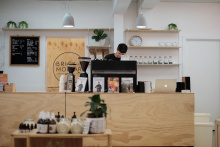 The Parade, Norwood has been selected to participate in the state government's voluntary business/retailer led 'Plastic Free Precincts' pilot program.
Boomerang Alliance, working in partnership with the Australian Packaging Covenant Organisation will develop, implement and manage the pilot program.
Boomerang Alliance along with the City of Norwood Payneham & St Peters will provide on-the-ground support for participating businesses and community sites to make the transition away from single-use plastics towards reusable, recyclable or compostable alternatives.
The pilot will focus on:
plastic drinking straws
single-use coffee cups
plastic beverage containers
plastic bags (all types)
take-away plastic serving ware (cutlery etc)
take-away polystyrene food packaging.
What you can do to support the pilot and go plastic free
dine in instead of getting take away
bring your own reusable bag
say no to plastic bags (use a box, carry smaller amounts of items in your hands)
bring your own refillable water bottle
bring your own reusable straw
treat yourself to an ice cream cone instead of a container with a plastic spoon (or bring your own spoon)
bring your own container for take-away
bring your own coffee cup
bring your own fresh produce bags.


The Plastic Free Precinct pilots will identify opportunities and challenges associated with transitioning away from single-use plastic products and inform legislation. The government intends to legislate to ban single-use plastics in 2020.
For more information, visit: Green Industries SA - Plastic Free Precincts