Raising the Bar podcasts
10/09/2019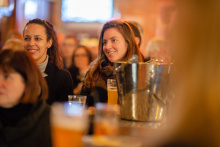 Missed Raising the Bar? Not a problem, we have a selection of Raising the Bar talks available for download on SoundCloud
Catch up on 6 talks:
For more information about this event, visit: Raising the Bar
Raising the Bar Entrepreneurship - book now!
10 ENTREPRENEURS. 5 BARS. 1 NIGHT.
Event date: Tuesday 1 October.
The City of Norwood Payneham & St Peters is bringing the first Raising the Bar Entrepreneurship event in the world to Adelaide.
The event will transform the city into an innovation hub, with ten entrepreneurs and innovative thought leaders from various fields and backgrounds giving talks about the successes and failures of their entrepreneurial journey and sharing business advice.