Spring Jams free music program for teens
28/08/2019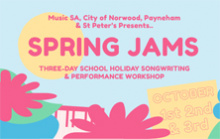 The City of Norwood Payneham & St Peters, Music SA and Headspace Adelaide are very excited to announce Spring Jams.
Spring Jams is a free school holiday song writing and live performance program for 13 - 17 year olds.
Participants will be mentored on song writing and live performance by members of West Thebarton, Wolf & Cub, Horror My Friend and more, along with qualified staff of Music SA staff.
The program will finish with a live performance for friends and family.
Students should have some basic - intermediate musical instrumentation, vocal experience at a high school level – this includes electronic production or rap and hip hop experience.
Workshop will run from 1 - 3 October.
For more information and to book, visit: Events & Festivals