Living Smart - make eco-living easy in the east
25/09/2019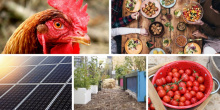 Live smart this summer!
Living Smart is a unique, 8-week course to help you make lasting changes in your life that make eco-living easy.
The course is interactive, will feature inspirational guest speakers and cover topics such as:
waste
energy
transport
water
gardening for biodiversity
gardening for food
keeping yourself, your home and your community healthy.
Date and time: Every Wednesday from 23 October – 11 December, 6.30pm – 9.00pm
For more information and to register, visit: Events & Festivals
Brought to you by the City of Norwood Payneham & St Peters, Adelaide & Mount Lofty Ranges Natural Resources Management Board and the City of Burnside.