Raising the Bar Entrepreneurship podcasts
29/10/2019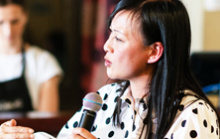 On Tuesday 1 October, the Council hosted the world's first Raising the Bar Entrepreneurship event.
This event saw ten thought leaders take to the stage in five local bars and pubs to present leading-edge ideas and share stories of business success and failure.
This follows the great success of Raising the Bar, an event which is held in major cities around the world including Sydney, New York and London and that NPSP has hosted since it brought it to Adelaide for the first time in 2018.


Download podcasts
Catch up on this year's talks on SoundCloud:
View RTBE image gallery
For more information about Raising the Bar series, visit: Raising the Bar