Christmas activities for kids at the libraries
02/12/2019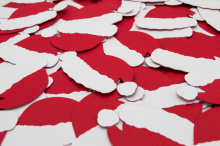 Enjoy making all sorts of Christmas crafts in the lead up to the festive season.
Free Christmas Crafts
Monday 16 –Tuesday 24 December 2019
Pick up a free Christmas craft kit from the one of our three libraries.
Christmas Slime! (fully booked - join wait list)
Tuesday 17 December 2019, 10.30 –11.30am
St Peters Library, 101 Payneham Road St Peters
Children aged 7 years and above are invited to come and make some sparkly festive Christmas slime!
Wear old clothes and bring a container to take home your creation.
Christmas Craft Maker Morning
Wednesday 18 December 2019, 10.00am–12.30pm
St Peters Library, 101 Payneham Road, St Peters
Drop in and get crafty with a range of fun Christmas crafts to choose from.
Booking not required.
Christmas Movie Afternoon
Thursday 19 December 2019, 2.00 – 4.00pm
Payneham Library, 2 Turner Street, Felixstow
Bring your pillow and snacks, and sit back and relax! Book now for a free screening of Dr Suess' The Grinch.
For more activities at our libraries, visit: Our Libraries - Upcoming Events