Changes to how you receive your bin collection calendar
18/12/2019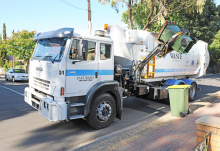 Our bin collection calendars are going paperless in 2020.
This year you won't receive a calendar in the mail, but don't worry—your regular bin days won't change. To download the 2020 bin calendar, visit: Bin Collection
Paper copies of the 2020 calendar will only be available upon request as we transition to a paperless calendar. To request a paper copy, visit or contact Norwood Town Hall Customer Service.
You can also download the My Local Services App to set weekly bin collection reminders.