Smart City Plan
04/03/2020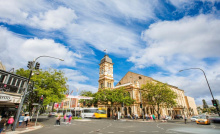 We're developing a Smart City Plan for Norwood Payneham & St Peters.
Smart cities make use of digital technology to improve collaboration, efficiency, sustainability and economic development.
Common smart city projects include:
free public Wi-Fi
co-working and innovation hubs
smart parking
smart street lighting
digital democracy platforms
mobile apps.
More information about this project will be available on the website soon.
Previous consultation
Online survey
The online survey closed 5:00pm, Friday 28 February 2020.
Community consultation workshops
Community consultation sessions were held on:
Tuesday 18 February at 6.00pm: Mayor's Parlour at Norwood Town Hall
Wednesday 19 February at 8.30am: Mayor's Parlour in Norwood Town Hall