Borthwick Park Creek improvements - have your say
23/01/2020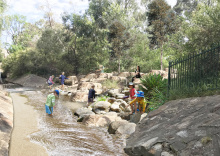 The City of Norwood Payneham & St Peters is seeking your comments on the Borthwick Park Creek Improvements Draft Concept Plan, which seeks to address community concerns in relation to bank erosion, water quality and access to Second Creek at Borthwick Park, Kensington.
The draft Concept Plan proposes some changes which will create safe access to Second Creek, stabilise the creek bank, provide additional native plantings, and eliminate stagnant standing water during the drier months.
The proposed improvements will further contribute to Borthwick Park being a quality open space by providing new nature play and passive recreation opportunities and increased native plant biodiversity and animal habitat.
For more information and to have your say, visit: Community Consultation