34 free cat desexings for needy felines in NPSP
06/03/2020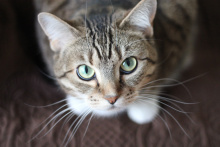 To commemorate a successful 30-year relationship with local councils and the community, Cats Assistance to Sterilise Inc (C.A.T.S.) is offering 34 free cat desexings for Norwood Payneham & St Peters Council's feline population.
The City of Norwood Payneham & St Peters has been chosen for promotion of desexing cats as one of C.A.T.S. top three priority Councils, along with Unley and Campbelltown. Each will receive a third of 100 free desexings on offer.
C.A.T.S. hopes that carers who are feeding stray cats will be among those who book.
Free desexing offer
The first 34 eligible Norwood Payneham & St Peters residents booking a desexing by ringing 08 8331 0476 can have a referral sent to one of C.A.T.S. cooperating vets for the surgery (pedigree cats and cats from breeders are not eligible).
When the free offer expires for the 34 cats treated, C.A.T.S. will still offer low priced desexing for needy cats to prevent unwanted kitten births.
Contact C.A.T.S.
The best time to ring C.A.T.S. is Mondays, Tuesdays and Wednesdays between 9am and 3pm.
More information about C.A.T.S.
C.A.T.S. is a not-for-profit organisation run by animal carers who give their time and money to reduce suffering by prevention of breeding. It is supported by 60 dedicated vets, who donate their time and veterinary skill to keep desexing costs affordable.
125,000 cats have been sterilised through C.A.T.S. Scheme.
Visit: C.A.T.S.