Chapel St, Norwood road works notice
02/03/2020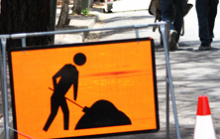 The Council is upgrading the existing footpath, kerb and road surface on Chapel St, Norwood, with works to be completed in late April 2020.
During this time there may be temporary inconveniences which include the restriction of vehicle access to properties and businesses located on Chapel Street for short periods.
Traffic management, signage, and appropriate detours will be in place to ensure the safety of road users and pedestrians.
All businesses located on Chapel Street will be operating as usual.
More information
Michael Moshos
Project Officer, Civil Urban Services
T: 08 8366 4571.