Mayor Bria's video message: COVID-19
27/03/2020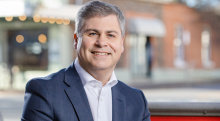 This is no ordinary time. Not for our local community, our state, nor our country.
The world in which we live has changed and will continue to do so at a rapid rate into the foreseeable future.
As individuals, families and a community we are facing possibly the most challenging time of our lives.
Now more than ever we need to work together and play our part to overcome COVID-19.
Watch video
I implore you to adhere to the directives and recommendations of Federal and State Governments, and heed the advice of health officials.
To date, the Council has already put in place a number of measures in a bid to assist in minimising the spread of COVID-19.
As Mayor, I assure you that the Council's priority is to protect the health and well-being of our community, volunteers and staff.
All Council events have been postponed, while non-essential programs and services have been suspended.
Council facilities, including the libraries and swimming centres, will remain closed for the interim.
Until instructed otherwise, the Council will continue to provide essential services such as waste collection.
Services for our most vulnerable residents will continue to ensure they remain safe and connected.
We understand many within our community will experience financial hardship.
This is being addressed by the Council as it considers a number of measures to assist residential and commercial ratepayers, as well as sporting clubs and other groups that rent Council facilities.
In recent years, the responsible management of the City's finances means that the Council is in a good position to absorb some sudden shocks such as the impacts of COVID-19. However, this will still be challenging.
Where possible, I encourage you to continue to support our local businesses, while exercising care and caution in relation to hygiene and personal contact, and following all lockdown measures.
Please, take every necessary measure to help stop the spread of COVID-19. Practice good hygiene and comply with social distancing protocols.
Social distancing should not mean social isolation.
I encourage you to take the time to phone, text or email your neighbours, loved ones and friends to stay in touch and see how they're going.
We have some tough times ahead so don't be afraid to ask, are you okay?
We are a strong, proud and resilient community, and together we will get through this challenging time.
Take care and stay safe.
If you or someone you know is experiencing distress, phone:
Lifeline 13 11 14
Beyond Blue 1300 224 636
For up to date information about Council services and programs, please visit: www.npsp.sa.gov.au/covid19