Temporary changes to parking controls
27/03/2020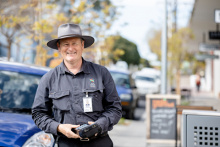 We understand that this is a difficult and challenging time for residents, visitors and businesses.
As such, we are taking a more flexible approach to the management of time limited parking controls throughout the City for the time being. At the same time we ask that you be considerate of others' needs for parking and access.
This will allow residents and visitors to go about their shopping and conduct business, and also releases some of the pressure which both businesses and shoppers are experiencing.
However, parking restrictions for disabled, clearways and permit zones and bike lanes will continue to be enforced.