Peregrine helicopter landing facility - Council's submission
01/04/2020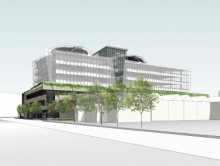 Peregrine Corporation is seeking approval for a helicopter landing facility to be established on the roof top of the yet to be constructed Peregrine headquarters building at 270 The Parade, Kensington.
The Public Environmental Report (PER) for the proposed helicopter landing facility was placed on public consultation by the Department of Planning, Transport and Infrastructure (DPTI) in January, with written submissions invited from 29 January to 13 March 2020.
The Council has major concerns regarding the public environment impacts of the helicopter landing facility, particularly in relation to safety and amenity within the surrounding area.
To read the Council's written submission to the Minister for Planning, download: Peregrine Helicopter Landing Facility: Council's Written Submission