Watch Mayor Bria's Easter message
09/04/2020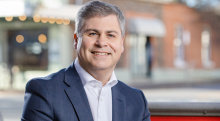 The last few weeks have been a challenging time for us all in many different ways as we adjust to everyday life with new restrictions in place due to the COVID-19 pandemic.
As a parent of school-aged children, I understand the difficult circumstances and decisions that other parents have been forced to make with regard to their education.
COVID-19 has also presented challenges for older people in our community, many of whom have not been able to see, hug or kiss their grandchildren, or enjoy social activities with friends.


With Easter and the school holidays upon us, these restrictions will be acutely felt by thousands in the local and wider community, particularly given the Government advice not to travel.
We must accept that family life has changed for the time being, and community life is not what we have been accustomed to, but there is no question that the Australian spirit is shining through as is the resilience of our community.
We can all draw inspiration from the many random acts of kindness and generosity of people in our community and elsewhere, and use them as a reminder to go that extra mile to help a neighbour, friend or indeed a stranger, who we think may be struggling.
This is a particularly important time to make a difference in someone's life.
With COVID-19 impacting our economy, the need to support local businesses has never been more important.
Where possible—and if safe to do so—I encourage you to continue supporting traders in your neighbourhood, whether it be through a takeaway meal or shopping online.
Since I last spoke to you the Council has adopted a package of measures to support ratepayers, residents, businesses, sporting clubs and other local groups that use Council facilities who are experiencing financial hardship.
You can find details of these initiatives on the Council's website.
These measures, which apply for the remainder of the 2019-20 financial year, are just the beginning.
In the coming weeks, the Council will consider additional support as part of the 2020-2021 Budget to take effect from the first of July.
In the meantime, if you are experiencing hardship with regards to rates, fees or other payments, I encourage you to contact the Council to discuss your particular circumstances with one of our wonderful staff members.
We want you know that the Council is on your side—and together we will be stronger as we face these difficult and unprecedented times.
Again, I urge you look after yourself, and stay connected with family and friends.
Be kind, show compassion and respect those working to keep our economy turning, particularly those frontline workers across so many industries organisations.
Have a safe and happy Easter.


If you or someone you know is experiencing distress, phone:
Lifeline 13 11 14 | Beyond Blue 1300 224 636
Previous video message
Watch or read Mayor Bria's COVID-19 message, posted on 27 March 2020.