Grant secures Payneham Oval unisex change rooms
16/04/2020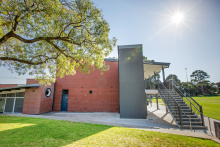 The City of Norwood Payneham & St Peters has successfully secured a $490,000 grant from the Office for Recreation, Sport and Racing to support the redevelopment and construction of new unisex change rooms and umpire facilities at Payneham Oval.
The grant was made available through the State Government's Grassroots Football, Cricket and Netball Facilities Program (Round 2) which provided a total of $6 million dollars in grant funding to 12 projects across the State.
The new unisex change rooms will include toilet cubicles and private showers, in addition to umpire faciltiies, and will complement the recent upgrade to the Clubrooms (completed in February 2019) and the new tennis courts which are currently being constructed.
Mayor Robert Bria says the Council will continue to invest in capital projects during the COVID-19 pandemic.
"It's crucial that we continue to forge ahead with major projects that will deliver new and upgraded facilities for our local sporting clubs and the community during this challenging time, which is why we are keen to get started on the new change rooms at Payneham Oval."
Both Payneham Norwood Union Football Club and Payneham Cricket Club have experienced significant growth in the number of girls and women joining the clubs.
"The new facilities will create equitable access to change rooms and significantly improve the comfort and well-being of female participants and team members."
"The overall project will also place the clubs in a strong position to attract even more players and continue the on-field successes they have enjoyed in recent years."
Construction works are expected to commence in mid to late May and be completed by October 2020. Further details will be available in the coming weeks.