COVID-19 clean outs: responsibly dispose of unwanted goods
21/04/2020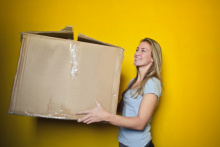 Many of us are using the extra time at home, while social distancing and isolating, to de-clutter and clean up.
The Council's free hard waste collection is still running however, why not consider the range of responsible alternatives before you toss your waste in landfill.
We've put together a cheat sheet about how to responsibly dispose of unwanted goods from your home, shed and garden.
Donate or sell (good quality reusable items)
PLEASE NOTE: All charity stores are temporarily closed. If you have items to donate to charity please hold onto them for now. All items left in the overflowing bins or out the front of stores will only end up in landfill.
Alternatively you may wish to giveaway or sell items through the following options as items could be left for collection on your doorstep:
Repair and restore
With more time at home we may be more inclined to repair and restore household items (for example electronics, bicycles, clothes, knitted items). There are lots of "how to" videos online with easy to follow instructions.
Alternatively, you could take common household items to the monthly Payneham Repair Café once the COVID-19 pandemic is over. The Repair Café is currently closed due to the pandemic so please hold onto your fixable items until then.
Recycle
Place paper, cardboard, rigid plastic, metal and glass containers into your yellow bin. For a fill list view our Waste and Recycling Guide.
What to do with items from my…
Bedroom
Clothes can be sold, given away or donated. However due to corona virus, you will need to hold onto your donations for charity stores until they reopen.
Bedding can be cleaned and aired to dry at home. Good quality sheets and blankets may be sold, given away or donated. Items could also be used for your pet's beddings, cleaning rags, drop sheets etc.
Quilts and pillows can be cleaned and refilled through Supreme Quilts
Animal shelters will accept sheets, towels and blankets, but cannot accept anything with stuffing (pillows, doonas etc.) Unfortunately, these pose a chocking and health hazard for animals.
Shed and garage
Batteries, building materials, electronic waste (e-waste), paint, scrape metal, tyres and more can be taken to Household Chemicals and Paint Drop-off Centre and disposed of for free.
The closest is:
Campbelltown Depot
6 Newton Road, Campbelltown.
Opening hours: Monday-Friday 8.00am-3.00pm.
A complete list of accepted items and other centres found on the Green Industries website
Light globes can be dropped off at any Mitre 10, Banner Hardware and Ikea.
Home Office
With more people working from home offices, households are creating more typical office waste.
Paper files, paperwork and writing paper can be recycled in the yellow recycling bin.
Confidential documents, post-it-notes and other small pieces of paper can be placed in the green organics bin.
Unwanted books can be donated to second-hand book stores such as: Oxfam, Glenside Lions Club Bookmark, Rotary Book Exchange, Rotary Club of Mitcham Bookshop, and Magill Book Exchange.
Street Libraries have become popular and books can be placed in these.
To find your nearest location, visit: Street Libraries.Org
Your local Officeworks store may have recycling options for:
printer and ink cartridges
mobile phones
batteries
pens and markets
electronic waste
Writing Instruments can be dropped off at Ecolateral Magill, 411 Magill Road, St Morris and other locations can be found at TerraCycle website
Old mobile phones and household batteries can also be recycled at the Councils Works Depot and Town Hall
Bathroom
Empty hair care, body wash and deodorant bottles and aerosol cans can be placed in the yellow recycling bin.
Plastic toothpaste tubes, floss containers and old toothbrushes can be recycled at:
More locations can be found at TerraCycle website
Cosmetic containers made from rigid plastic or glass and are clean and empty can be placed in the yellow recycling bin. Other items and containers must be placed in the red lid bin.
Medications that have expired should be taken to your local chemist for correct disposal.
Hair dryers, straighteners and bed lamps that no longer work can be taken to electronic recycling drop off Unplug N' Drop
Laundry
Empty cleaning product bottles and aerosols cans can be placed in the yellow recycling bin.
Broken plastic laundry baskets and buckets can be cut up into smaller pieces and placed into the yellow recycling bin.
Fridge, freezer and pantry
All food waste can be placed in a kitchen caddy ready for the green organics bin or straight in the green organics bin. If you do not have a kitchen caddy or haven't collected your annual supply of compostable bags the council is providing a delivery service due to Covid-19. Request a delivery here.
Soft plastic can be REDcycle Bin at Coles and Woolworth stores. Full list of accepted items found here
Pruning and weeding the garden
Weeds, flowers, garden prunings and unwanted plants can be placed in the green organics bin. Larger logs and amounts of garden waste can be taken to your local transfer station that accepted garden materials:
Make landfill the last option
For items that cannot be salvaged, sold, given away, repaired, recycled and composted, then landfill may be the only option.
Hard waste collection
If your items are too large for the red kerbside bin (general waste) then book a free hard waste collection with East Waste. For information on what is accepted and how to book, visit: Hard Waste & E-waste