Welcome back! Libraries re-open Friday 15 May
13/05/2020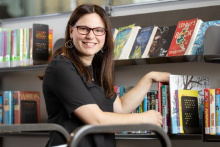 We are excited at the prospect of re-opening our libraries albeit with some clear restrictions in place which will serve to protect the health, well-being and safety of our staff, customers and community.
On Friday 8 May, the Federal and State Governments announced the easing of restrictions in South Australia with Step 1 commencing on Monday 11 May—a positive step forward for our community and State as we begin recovering from the impacts of the COVID-19 pandemic.


Re-opening details
The Council is working towards re-opening Libraries on Friday 15 May.
Our priority is to ensure that the Council's three Libraries are prepared and equipped to provide a safe environment for visitors in accordance with Federal and State Government restrictions.
We can't wait to reconnect with our community and welcome customers back to our Libraries. However, once open, please be mindful that your Libraries will look a little different for the time being.
What you can expect
Due to capacity restrictions, visits to the Libraries should be kept brief—less than 30 minutes—to browse, borrow, make a payment, seek Council information and use a PC (where available). This will help ensure everyone has the opportunity to access and enjoy the Libraries.
Long visits and interactions will be discouraged.
When you visit our Libraries, you will find:
reconfigured entry and exit points to ensure compliance with social distancing measures
reduced capacity with a limit of 10 customers in the Library building at any time
all seating, lounges, toys and interactive displays have been removed
preference for contactless payment methods
social distancing markers externally for entrance queues and internally in front of service counters and throughout the Library aisles
acrylic screens across service counters
additional cleaning of Library facilities during the day, including public toilets
reconfigured location of public PCs and booking schedules to meet social distancing requirements and allow adequate time between uses to undertake cleaning requirements
all returns will be quarantined for a minimum of three days.


Entry conditions
All Library visitors will be expected to adhere to entry conditions:
use the hand sanitiser provided as you enter and exit the Library. Practice good respiratory hygiene.
ensure social distancing by maintaining 1.5 metres between yourself and others
maximum of 10 customers in the Library building at any time
limited services will be available. Library programs, activities and events are temporarily suspended. Seating, toys and displays have been removed.
Opening hours from Friday 15 May
Opening hours across the three Libraries have been revised and are as follows:
| | | | |
| --- | --- | --- | --- |
| | Norwood | Payneham | St Peters |
| Monday | Closed | Closed | 9.30am–5.00pm |
| Tuesday | 1.00pm–5.00pm | 9.30am–5.00pm | 9.30am–5.00pm |
| Wednesday | 1.00pm–5.00pm | 9.30am–5.00pm | 9.30am–1.00pm |
| Thursday | 1.00pm–5.00pm | 9.30am–5.00pm | 9.30am–5.00pm |
| Friday | 9.30am–5.00pm | 9.30am–5.00pm | 9.30am–5.00pm |
| Saturday | 10.00am–1.00pm | 10.00am–1.00pm | 10.00am–4.00pm |
| Sunday | 1.00pm–4.00pm | 1.00pm–4.00pm | Closed |
Cultural Heritage Centre and other community facilities
At this time the Cultural Heritage Centre, St Peters Youth Centre, St Peters Banquet Hall, Payneham Library Community Facilities and Payneham Community Centre will remain closed due to social distancing measures and restrictions on public gatherings. This will be reviewed in the next phase of restrictions being eased.
For more information about easing of restrictions, visit: Government of South Australia - Recovery from COVID-19
Stop the spread
Everybody has a responsibility to ensure that our public libraries stay open for everyone to enjoy, so we ask that you please exercise your responsibility by:
practicing social distancing by maintaining a 1.5 metre distance between yourself and others
sanitising your hands before and after visiting the libraries
adhering to limits for public gatherings as advised by State Government.
Thank you for your cooperation. By working together we can all stop the spread of COVID-19.
Other ways to access library collections
Library card holders can access plenty of books and online learning opportunities from any mobile device through the Libraries SA app
The online catalogue, available on the app, offers a huge range of books, digital magazines and newspapers, and online learning opportunities. The app can be downloaded for free from the Apple App Store and Google Play.
Customers can also continue to take advantage of the Click, Call & Collect service by reserving library items over the phone, online via the Library catalogue or by using the free Libraries SA app. All reserved items will then be available for collection from one of the Council's three libraries.