Tell us about your Water Sensitive Urban Designs!
18/05/2020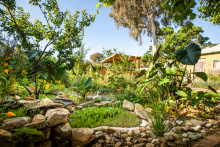 Do you have a Water Sensitive Urban Design (WSUD) feature on your property? We'd love to hear about it!
What is WSUD
WSUD supports the use and re-use of water in urban development and buildings.
This type of design integrates the total water cycles and water from all sources (e.g. rain water, ground water, mains water, and waste water) into urban development and building processes.
WSUD can be applied to residential, commercial and industrial developments and buildings.
Examples range from storage, treatment and use of runoff to water-efficient landscaping.
WSUD can help create a more water sustainability and create a pleasant place to live and work. The council has a number of its own WSUD designs across the city.
Tell us about your water sensitive urban designs
Do you have an example of WSUD on your property? If so we would love to hear about it.
Submit your example by using the form below.
WSUD examples in our City
Felixstow wetlands
A large scale example is the construction of the Felixstow wetlands in 2017 by the Eastern Regional Alliance (an alliance of the six councils in Metropolitan Adelaide's eastern suburbs).
The wetlands system captures, treats and stores stormwater through an aquifer storage and recovery (ASR) scheme and then distributes recycled stormwater for irrigation across the eastern suburbs of Adelaide. The wetlands system also creates important new habitat for birds and animals.
The project comprises of:
wetlands
pump stations
underground water storage
distribution network.
The project provides an environmentally sustainable source of water to irrigate parks and reserves in the Norwood Payneham & St Peters, Walkerville, Campbelltown, Burnside and Port Adelaide Enfield council areas.
Construction of the wetlands was supported through significant funding by the Australian Government's National Urban Water and Desalination Plan and also the Adelaide and Mount Lofty Ranges Natural Resources Management Board.
Rain gardens, St Peters
A street scape level example is bio-swales and rain gardens on St Peters Street, St Peters.
The bio-swales and rain gardens at St Peters are an example of bio filtration—a type of water sensitive urban design.
Bio-swales and rain gardens were installed along St Peters Street between Payneham Road and First Avenue.
These WSUD elements are successfully improving the area's amenity, as well as filtering and slowing stormwater discharging to the St Peters Billabong and River Torrens, passively watering plants in the swales and gardens as well as contributing to microclimate cooling.
More information
For further information or if you have any questions about Water Sensitive Urban Design, contact:
Council's Sustainability Officer
Naomi Doolette
E: ndoolette@npsp.sa.gov.au.