Be a paw-some dog owner
24/06/2020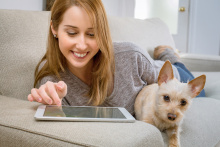 All dogs must be registered by the time they are three months old, or within two weeks of moving to a new home.
On 1 July 2018 dogs previously registered with the Council were transferred to the centralised database Dogs and Cats Online (DACO).
Dogs and Cats Online
Dogs and Cats Online is used to catalogue and manage pet registration, microchip details and breeder information.
Pet owners are issued with an annual renewal notice by post, email or text message, as per the preferred communication method nominated in DACO.
Renew your registration
Dog registrations are due 31 August.
To complete your dog registration renewal visit Dogs and Cats Online and select the 'Renew Registration' option.
While renewing your dog's registration, use the opportunity to ensure your contact details are up-to-date.
For more information about dog registration and responsible pet ownership, visit: Dogs and Cats