Rate relief for local businesses
13/07/2020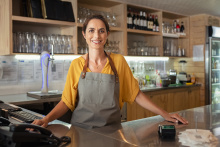 One hundred and twenty businesses in the City of Norwood Payneham & St Peters will receive an automatic 50% rebate from rates for the Fourth Quarter of 2019–2020, as the Council demonstrates its commitment to assisting those local business owners who are experiencing hardship.
The Discretionary Rebate will be offered to businesses—such as cinemas, pubs, gyms and beauty therapists—that were forced to close following Federal Government restrictions which took effect at midday on 23 March 2020.
The rebate recognises that these businesses are amongst the most affected by the impacts of the COVID-19 pandemic as they were unable to re-open until 8 June, meaning they were closed for 68 of 91 days in the last quarter.
Several recent reports show that the local economy in the City of Norwood Payneham & St Peters, like many local areas across the state, has been significantly impacted by the COVID-19 pandemic and job losses in both the retail and hospitality sectors have been considerable.
The rebate is in addition to a suite of financial hardship measures which have already been implemented in response to the COVID-19 pandemic, to the value of $1.15 million. These include waiving of Outdoor Dining Permit fees until 31 December 2020 and suspending the Separate Rate for The Parade traders.
The Council has also asked Chief Executive Officer, Mario Barone, to give consideration to continuing the flexible approach to monitoring time-limited parking around the Council's commercial and retail precincts until 31 December 2020.
For details about delivery of Council services and programs during COVID-19 conditions, visit: COVID-19 Latest Updates