Super Tuesday 2020 bike count results
28/07/2020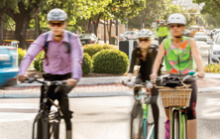 Super Tuesday is Australia's biggest annual commuter bike count, conducted each year on the first Tuesday in March for two hours from 7am to 9am.
The count is undertaken by volunteers who record volumes, gender and movement flow of cyclists at chosen survey locations.
Super Tuesday provides reliable annual data on bicycle commuters and their movements during morning peak-hour. The data collected can track long-term patterns and help the Council plan for improvements to the cycling network.
In March this year, sixteen intersections in the City of Norwood Payneham & St Peters were counted.
To view the locations and details of each count, visit: Super Tuesday 2020 Map

Key findings from Super Tuesday 2020:
1,283 cyclists counted at 16 locations
Beulah Road, Norwood was the most popular route with 160 cyclists counted in the two hour period (increase of 58 cyclists from 2019)
other popular city bound routes were the St Peters and Hackney Route (Ninth Avenue, Eighth Avenue and Richmond Street) - 130 cyclists, and William Street, Norwood - 110 cyclists
Osmond Terrace was the most popular north-south route with 80 cyclists counted
busy roads such as Magill Road, Payneham Road, Portrush Road and Fullarton road carried between 15 to 30 cyclists.
The Council would like to thank all of the volunteers who were involved this year and in particular the organiser, Ian Radbone.
Get involved!
We are aiming to increase count locations each year, so if you are interested in volunteering in 2021, please email your details to Attention: Gayle Buckby, Manager, Traffic & Integrated Transport at townhall@npsp.sa.gov.au