Norwood Oval redevelopment nears completion
05/08/2020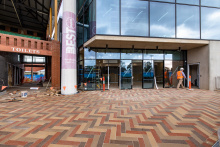 The much loved and iconic Norwood Oval is set to become Adelaide's premier SANFL sporting ground, as construction of new clubrooms and member and player facilities enters the final stages.
Situated in close proximity to the Adelaide CBD and in the heart of Adelaide's premier mainstreet The Parade, Norwood Oval is a boutique and historic ground with much to offer and special 'sense of place'—and the new clubrooms and member's facilities will bolster its appeal as not only the home of the mighty Redlegs but as a place to watch and enjoy Australian Rules Football.
The new facilities will significantly enhance accessibility for all patrons while providing facilities for both male and female players and umpires to accommodate and encourage increased female participation.
Among the vast range of new features, the multi-purpose facility includes a new 180 seat members clubroom and function space and new Premier's Bar.
The Sir Edwin T Smith Stand has also undergone significant renovation and now boasts refurbished home team changerooms with associated unisex showers and toilets, and a merchandise outlet.
Norwood Football Club staff will also enjoy new administration offices and meeting spaces on a new mezzanine level in the Sir Edwin T Smith Stand.
Unisex facilities for both umpires and away teams have been constructed under the Western Stand, together with match day facilities, kiosk and public toilets.
At street view, patrons will first notice streetscape improvements and the revitalised main entrance on Woods Street which will provide direct and at grade access into the historic Norwood Oval, vastly improving accessibility for patrons.
Following some unfavourable weather conditions, construction is now scheduled to be completed during mid to late September.
Image gallery of works in progress
Related content
Fortis in Procella: Strength in adversity
Since its inauguration in 1878, the Norwood Football Club—better known as the mighty Redlegs— has been at the heart of our City's community and cultural spirit.
Winning a premiership in their first season, the Club has since gone on to secure a further 29 premierships, with loyal and loud supporters behind them every step of the way.