Fortis in Procella: Strength in adversity
05/08/2020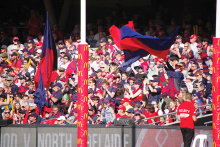 Since its inauguration in 1878, the Norwood Football Club—better known as the mighty Redlegs— has been at the heart of our City's community and cultural spirit.
Winning a premiership in their first season, the Club has since gone on to secure a further 29 premierships, with loyal and loud supporters behind them every step of the way.
But in 2020, the football season as we know it wasn't to be. As the COVID-19 pandemic made its way across Australia, no sporting code was immune to the impacts and the SANFL competition was over before it had begun.

"Throughout our 141 year history, Redlegs supporters have always stuck together, standing up to everything that has challenged the Club—and this wasn't going to be any different," says Norwood Football Club Chief Executive, James Fantasia.

As physical distancing and restrictions on gatherings were imminent, the Club knew they needed to call on their loyal and passionate supporters.

On 20 March, the Norwood Football Club reached out to supporters to rally around the Club as they weathered the impacts of the COVID-19 pandemic—and to show Fortis in Procella (strength in adversity).
Though one of the most challenging chapters in our Club's history, it has also become one of the proudest. The response we have received from our supporters to the Fortis in Procella campaign has been nothing short of overwhelming.

The Fortis in Procella campaign was an unprecedented solution to an unprecedented challenge.
"With the football season suspended indefinitely, we knew this would significantly affect the Club's financial sustainability and so we needed to act quickly."

A collection of limited edition Fortis in Procella merchandise was made available through the Club's website and quickly snapped up by 2,031 passionate supporters, now known as the red and blue Fortis in Procella army.
"The contributions of these supporters will be celebrated when we return to Norwood Oval as a team and as a community."

"The Fortis in Procella army will be invited to gather on the Oval for a photo that will immortalise these supporters—our heroes—and will hang with pride in our new clubrooms."

"The photo will truly capture Fortis in Procella and serve as a reminder of how our fans, supporters and members came together during one of our toughest times. A reminder of how together, we came back stronger than ever."
For further details about the Fortis in Procella campaign and Norwood Football Club, visit: Norwood Football Club