Dedicated dog park for Hannaford Reserve
07/10/2020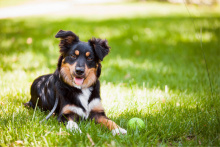 Following community consultation, the Council endorsed the establishment of a dedicated dog park at Hannaford Reserve in St Peters.
The Council considered a variety of elements including potential locations, infrastructure, amenities, lighting, size, accessibility and parking before commencing consultation to determine the level of support for a dog park at two locations in St Peters: Hannaford Reserve (corner of Winchester Street and Seventh Avenue) and Otto Park (Second Avenue).
The Council received a total of 128 responses as part of the consultation, 92 of which were in favour of establishing a dedicated dog park within the City.
As Hannaford Reserve has been identified as the preferred location, Otto Park will continue to be an off-leash park at all times, however, the Council will undertake consultation with adjacent residents regarding the installation of lighting at the park.
A concept plan for Hannaford Reserve, including the dog park, will now be prepared as part of the Hannaford Reserve Masterplan and has been included and funded in the 2020–2021 Budget.
For further information about off-leash areas, visit: Dog Off-leash Areas
Related content